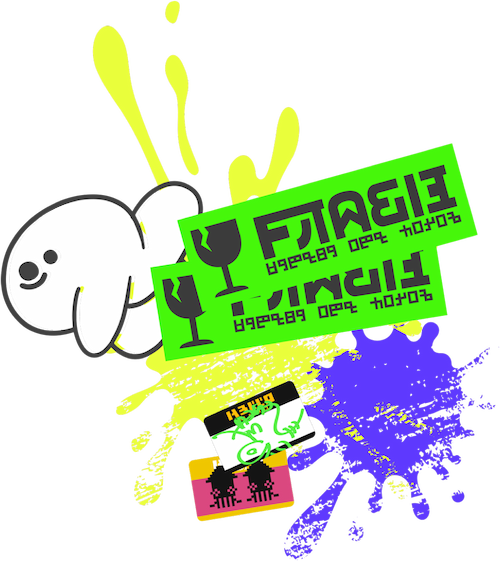 August 19, 2022
Enjoy some artwork and get ready for the Splatoon 3: Splatfest World Premiere demo!
Exhibit A: Judd & Li'l Judd – This fursome duo judge Turf War outcomes (among other things). Wait, since they judge things is that why they're named Judd?? More research is needed.
Exhibit B: Deep Cut – This incredibly popular trio host the Splatsville news program, Anarchy Splatcast. What an interesting fashion taste…
Exhibit C: Here's an artist's rendition of a Turf War battle. You can practically feel the ink, wouldn't you say?
Don't miss the Splatoon 3: Splatfest World Premiere demo event!
Also, if you've never played a Splatoon™ game, you're in luck! Nintendo Switch Online members* will be able to try out some fierce ink flinging during the Splatoon 3: Splatfest World Premiere demo on Aug. 27 (9:00 a.m. to 9:00 p.m. PT). Don't worry if you don't have a Nintendo Switch Online membership yet—everyone who grabs the demo will receive a code redeemable for a 7-day free trial* (the code will be sent to the email address linked to your Nintendo Account). You'll be able to redeem the code** starting Aug. 25—just in time for the event!
---
*Nintendo Switch Online membership (sold separately) and Nintendo Account required for online features. Free trial automatically converts to 1-month auto-renewing membership unless automatic renewal is turned off by the end of the free trial. Credit card/PayPal account required for 18+. Free trial cannot be redeemed for a Nintendo Switch Online – Expansion Pack membership nor by a Nintendo Account with an active Individual Membership or Family Membership. Not available in all countries. Internet access required for online features. Terms apply. nintendo.com/switch-online
**Your Nintendo Switch Online trial code can be redeemed starting August 25, 2022 and must be redeemed before its expiration on August 31, 2022 at 11:59 p.m. PT.