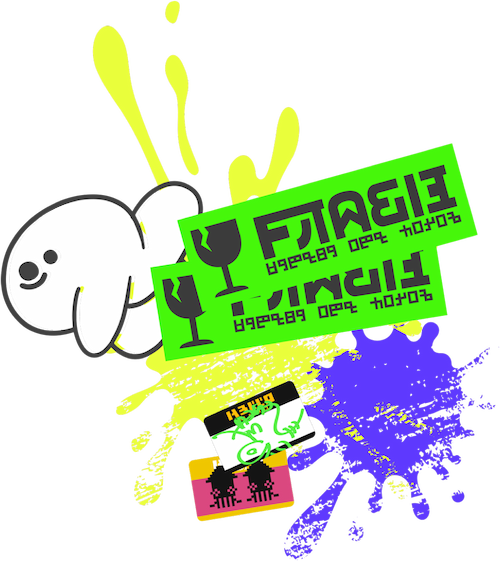 September 8, 2022
Ask the Developer Vol. 7, Splatoon 3–Part 3
Content pre-recorded in accordance with current COVID-19 health and safety guidelines.

This article has been translated from the original Japanese content.
---
Check out the rest of the interview:
---
Part 3: The feeling that there's an actual person
Well, I think we have a good understanding of what kind of background the Inkling world is built upon. Above all, it's an interesting attempt to have mechanisms and such that allow you to get to know the personalities of the other players outside of online battles. Now, let's talk about the online battles (4), the main attraction of the series. Could you tell us how you approached online multiplayer for Splatoon 3?
Sato: First, let's talk about the lobby, which is the gateway to online matches.
(4) Any Nintendo Switch Online membership (sold separately) and Nintendo Account required for online features. Not available in all countries. Internet access required for online features. Terms apply. nintendo.com/switch-online
The lobby? This is before you enter online battles, right?
Sato: Yes. This is the place where you meet up with your online opponents and teammates. The lobby did exist in previous games, but this time we put in quite a lot of effort so that players can have fun even while waiting for the match to start. The lobby is a facility packed with the latest technology in the Inkling world, and players can freely roam around this space.
Especially, the first thing we would like players to try out is the test range. As the name suggests, this is a place where players can try out their own weapons, but they can also wait for their opponent while brushing up on their ink-shooting skills.
Nogami: You can warm up before you go into online battles.
Sato: Also, in the lobby, 3D images of friends you're meeting up with or players you happen to meet will be projected as ghosts. You can actually see what they are doing.
Does that mean that you see what the other players you're meeting up with are doing, projected in real time?
Sato: Yes. We've implemented these features and mechanics to make the waiting time fun for players, but I think players will be able to feel the presence of others right then and there, even before the battle starts.
In terms of being able to feel the presence of others, there was a drawing function up till the previous title, wasn't there?
Sato: Yes, there was. The first Splatoon game displayed illustrations that players drew and posted in the mailbox in the game, as it would be linked to the Miiverse (5) functionality on Wii U, and players were able to see others' messages that way.
(5) A network service implemented into the Wii U system. It was a community service where players playing the same game could empathize and interact with each other through drawings and messages. This service ended on November 8, 2017.
We talked about how this was similar to graffiti in street culture. I think it fit in well with the Inkling world. So, given that Splatoon 2 launched on the Nintendo Switch system, which does not have the Miiverse functionality, we incorporated a game-specific function to allow players to post their own handwritten messages in the mailbox.
Likewise in Splatoon 3, players can drop a handwritten message in the mailbox.
Nogami: In the sense that you write something while expecting someone to read it, we could say that this is also a form of communication between players.
Sato: Yes, I agree. After all, I think the most important thing here for us is to create a world where players feel that there are actual players other than themselves. The feeling that "there's an actual person behind this drawing." I hope that players will get the sense that there is an actual person, not a CPU, on the other side of the screen, and that the actions of players playing the game have an impact on the streets of the Inkling world. I think that the locker we mentioned before is one such example. Someone from somewhere creates a locker, and it shows up in another person's locker room. Even without the hand-drawing function, you can get a sense that there's someone out there who decorated a locker like this by looking inside their locker.
A sense that there is someone actually controlling the character on the other side of the screen.
Sato: Yes, that's right. In the lobby, there are other functions such as the "notifications."
If your friend starts a match, a notification will be sent over. Once received, notifications become available in players' in-game notification list. Also, ghosts of your friends show up in the lobby, so players are able to check the notification by talking to them as well. Players can also drop in to the battle from the notification that lets them know the battle has started, so it is easier to play online with your friends.
So, it's now easier for players to invite each other?
Sato: Yes, this notification function can only be used between friends at the time of launch, but we plan to add a function so that players will be able to send notifications to players outside of their friends in future updates. To be more specific, even if you have not become friends directly, you will be able to send out notifications to each other by entering the same keyword. For example, if you round up other players using a specific keyword on social media, etc., it will be possible to receive notifications from players who saw the post and entered the same keyword. Notifications aren't limited to those sent by players you're battling with. There are also status report functions like "Level up!" or "Rank up!" I think these can be used to create a more casual connection between players.
Nogami: It would be fun if keywords like #AfterWorkTurfWarClub or #UniSquidClub started trending.
I see. Indeed, in online games, you may feel anxious that you're the only one playing the game, if you can't see other players moving in real time.
Nogami: In that sense, I think the most exciting thing for players might be to realize that many other players are actually playing Splatoon 3 together. Just going to a city with lots of people makes you feel a little excited, you know? I think it is similar to that kind of feeling.
Sato: Of course, since the early days of the series' development, we have always put a great emphasis on creating a fun experience even when playing alone, and this game is no different. However, as a culmination of the series so far, we thought about ways to enhance the support to create even more fun when playing with others. That is, through various events such as the Splatoon Koshien (6) and the Monthly League Battle (7), we have realized that people find the experience of playing together to achieve a common goal much more appealing than we expected. And I realized that those players' excitement would create a ripple effect and eventually influence other players positively. Therefore, for this title, we put even more effort into making it easier to play together with friends and other players.
(6) An official Splatoon Turf War tournament to determine the best team in Japan. The qualifying rounds are held in regional or online tournaments, and the winning teams compete in the national finals. It has been held five times so far.
(7) A monthly online tournament for Splatoon 2 held in Japan in which teams of four competed in League matches on a designated date and time. Held until June 2022.
Similarly, Splatfests, which led to the theme of the world for Splatoon 3, are also big events that attract many players.
Inoue: Many of the past Splatfests looked and felt like live concerts, but this time the theme is "Festival."
"Festivals?" For Japan, it's the ones with night vendors, right?
Inoue: Yes. How we crafted Splatfests this time is by adding a modern twist to the traditional festival in Splatsville, the main location of this game, that has existed for years. That's why floats parade through town but at the same time, we made sure that the presentation re-creates the energy of live concerts.
Nogami: There are some regions that put their heart and soul into festivals, you know? For Japan it's like the Danjiri Festival (8) in Kishiwada or the Gion Festival (9) in Kyoto. Maybe the Carnival in Rio de Janeiro is a good example for overseas. Likewise, the residents of Splatsville pour a lot of energy into their festivals.
(8) A festival held in Kishiwada City, Osaka every year in September. It is said to have originated in the 18th century, mid-Edo period, as a festival to pray for a good harvest. The highlight of the festival is the dynamic "Yarimawashi," in which large floats called "Danjiri" dash through streets and round corners while maintaining their speed.
(9) A festival held in Kyoto City, Kyoto, said to have originated in the 9th century, when people carried portable shrines to quell a plague. Various rituals are held for about a month from July 1, but among them, the "Yamahoko Junko" float procession, which takes place on the pre-festival, July 17, and the latter festival, July 24, attracts visitors from all over the country. It is one of the summer attractions in Kyoto.
Inoue: This time, we prepared something called the Sneak Peek, where players can enjoy the preparation period up to the actual Splatfest. Like in the Gion Festival, I think the excitement builds little by little, as more decorations show up in the city with lanterns on streets and floats being built to prepare for the main event of the Yamahoko Junko procession. We wanted to express this feeling in the game as well.
Sato: That excitement you feel as the day of the festival gets closer and closer. The Gion Festival is most famous for the Yamahoko Junko float procession, but it actually starts on July 1. The Sneak Peek for this title's Splatfests also begins about a week before the main event. At the Sneak Peek, players are divided into teams that they voted for, and the results from the Sneak Peek are also reflected in the final result of the Splatfest. So even for players who have plans on the day of the Splatfest, it will be easier for them to participate in the event.
I see. It's designed so that players are able to soak in the sights and energy specific to festivals, and also to allow more people to participate.
Inoue: By the way, the three members of Deep Cut, the news personalities of Splatsville, are descendants of the families that have overseen the Splatsville festival for generations. They themselves love their hometown, and they are also very popular among the locals.
Nogami: On the day of the Splatfest, Deep Cut will parade through the streets to liven up the festival with their music. I hope everyone gets a chance to see this in the game. With many aspects of various festivals mixed together, it is a perfect festival for the city of chaos.
Is the music by Deep Cut also a mixture of various styles?
Minegishi: Yes. It's truly a mix of different elements—just perfect for a city of chaos. Shiver and Frye each bring their own vocals from different cultures to the EDM (electronic dance music)-based tracks created by Big Man, the manta ray. While Frye sings with a melody that makes you feel as if a desert is in sight, Shiver sings with riffs and runs that remind people of traditional Japanese singing. And adding this on top of a Brazilian-style beat...it is really a mishmash.
It's lively and fun to listen to, but it sounds like a lot of work for those who put it all together.
Minegishi: Yes. Our sound director composed the music, and oh my... He really gave it everything he had!
Everyone: (Laughs)
Minegishi: The person who did the vocals for Shiver is a singer of traditional Japanese folk songs. Frye, on the other hand, was performed by a singer-songwriter with a jazz background.
I see. It is interesting that people with expertises that seem totally unrelated to one another are coming together to create one piece of music.
Minegishi: With the theme of chaos, I feel that even these types of seemingly odd combinations fit right into the game. We hope that more people will get to enjoy the game while feeling the festival vibes and this chaotic world.
Nogami: It would be great if players invite their family or friends to try it together and casually join the Splatoon world through events like the Splatfests.